While in Venice this past Summer on an Art History study abroad, a few of us spent hours and hours soaking in the art at the Peggy Guggenheim museum. For the past three weeks we had been looking at the sculpture and architecture of Ancient Greece, monumental Roman ruins, Early Christian and Byzantine mosaics, and countless religious artworks of the Renaissance and Baroque periods ( I know, rough life ;) ) - needless to say, we were craving some 20th century visual culture! Towards the end of our stay at the Guggenheim we found ourselves in front of two startlingly different depictions of women by the 20th century Swiss sculptor, Alberto Giacometti. We stood in the gallery discussing the complexity of the two works, displayed just feet away from one another, with one of the gallery interns.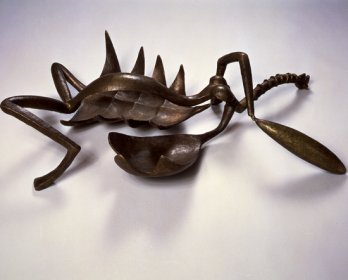 The first image,
Woman with her Throat Cut
, 1932, is a violent, abstracted depiction of the female form. The
Peggy Guggenheim museum
website states, from 1930 - 1933 Giacometti was making surrealist works that used anatomical representations to express subconscious fear and anger (partially due to his associations with André Masson and other surrealist artists). On her back, with no head to think with, this woman is weak. But although weak, and incompetent, she is still dangerous - a temptress, scorpion like - wild and vicious. She is the ultimate depiction of the
femme fatale
- abstracted, sexualized, and dangerous - but with no real intellectual threat, or ability. In my opinion (feel free to disagree), it is one of the most demeaning images of women in the art historical canon.
However, just four years after creating this gruesome, brutal image of a woman - he created
Woman Walking
, 1936 - a beautiful, elegant, elongated depiction of the female form. Her sexuality is not emphasized. She is not dangerous, or violent, or gruesome. In fact, Giacometti is hearkening back to early Greek Cycladic figures with their simplified, flat anatomy (as well as referencing Egyptian sculptures, and Archaic Kouros figures
source
). This is significant because women were extremely important in Ancient Aegean societies - both being worshiped, and as worshipers, carrying out the most important aspects of religious ceremonies.
What do you think caused this drastic change in Giacometti's visual representation of women? The intern at the museum recalled that between 1932 and 1936 Giacometti had met a girl and fallen in love.
What are your other thoughts about these sculptures? Do you find
Woman with her Throat Cut
as problematic and misogynistic as I do? How would you compare Giacometti's more well-known sculptures of women walking with these two earlier works? Why do you think Peggy Guggenheim would have collected these works?